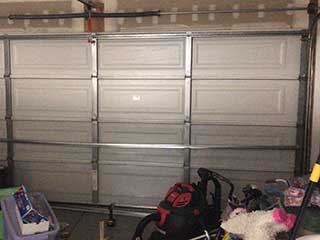 When a machine like an automatic garage door starts making noise, it's because of mechanical stress being placed on one or more of the components. Parts are likely to be rubbing, grinding, or banging against each other. While some mechanical stress is unavoidable, if your door is making noises that it didn't before, this could be a sign that something might be wrong.
Where Is It Coming From?
If possible, try to listen carefully and determine where exactly the noise is coming from. If the sounds are coming from the door itself, the cause is likely related to your tracks, panels or springs. If it's coming from the back of the garage, the issue is more likely to be with your opener or with the belts connecting it to the door mechanism.
Squealing Or Squeaking
If it's a high pitched squeaking or squealing noise, then this is probably being caused by the rollers, tracks or panels (especially if your panels are insulated with a softer material). Your door could probably use some extra lubrication to ease the pressure when it slides open and shut. It's also possible that some of your insulation has come loose. You might also need to replace your rollers - a jammed roller will squeak like any other wheel, and over time this will grind away at your tracks.
Harsh Grinding Sounds
If you hear what sounds like metal scraping or grinding against metal, the problem is most likely to be with the chains drive if you have this type of opener. If the sound is coming from the direction of the door itself, then you may need some work carried out on your belts (or spools, if your door uses torsion springs).
Rattling And Clacking
If you hear erratic banging, clicking, or rattling sounds, then something has likely come loose and is currently being banged or flung around during your door's operation. If a roller is making rattling sounds, it is probably loose, or already broken. If you've determined that any new sounds are coming from the springs, you should get professional help immediately.
Feel free to explore the rest of our site to learn more about our garage door repair and maintenance services. We're here to help, whatever the professional services you're in need of!