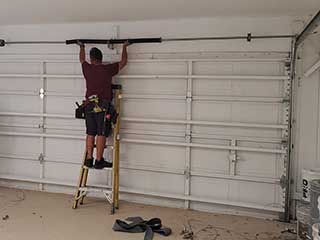 It's never a fun time when a spring breaks unexpectedly on your garage door. Usually, it's accompanied by a loud bang noise while the garage door is in the air, and sees it slamming down shut. Startling sounds aside, broken garage door springs become annoying for many other reasons. For once, you can't use the door regularly, as its main counterbalance and support just broke. Plus, trying to open a garage door with broken springs has the chance of causing other parts to break. So you're quite in a pickle. Broken spring replacement is a dangerous job to do when you don't have experience doing it. But luckily, you can avoid these risks very simply. With help from Garage Door Repair Riverton you can get broken springs replaced any day of the week, or even on holidays.
Why Broken Garage Door Springs Can Be Dangerous
It's quite evident if you see a garage door spring break that they carry a lot of tension and force in their coils. So, one would assume that the dangers are obvious. But unfortunately, many people get hurt every year from mishandling or incorrect installation of springs on garage doors. While the broken parts themselves don't present much danger, it's using the system without them or trying to replace them without knowledge and experience where the danger lies. Replacing garage door springs requires that you handle the tension loading part, which can be tricky and very risky if you've never done it before. Many times, when people try to replace broken garage door springs themselves, they end up breaking the new ones. And hopefully, nobody gets hurt when that happens, although sometimes people do.
So What to Do When Garage Door Springs Break?
The answer, as you can probably guess, is quite simple. Call someone who knows how to replace them! Even adjusting the tension of garage door springs can be dangerous when you don't understand how the mechanism works or how much tension is too much or too little. That's why the experts from Garage Door Repair Riverton offer the fastest broken spring replacement services in the area. We help homeowners who have broken springs keeping their garage door from working optimally get a quick solution at an affordable cost.
Best Garage Door Replacement For The Riverton Area
When you're in a hurry and need a quick solution, get the fastest technicians near you to assist. With same-day broken spring replacement services offered every day, including on the weekend, you've got very quick fixes for whenever trouble like this crops up. Got a broken garage door spring near Riverton you need replacing quickly? Go ahead and get in touch with our local team for expert solutions on the same day. Garage Door Repair Riverton provides guaranteed results at the cheapest rates, with satisfaction guaranteed every time. Call us to get springs replaced any day!