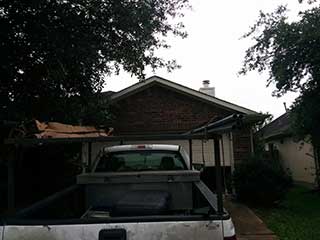 Don't ever try to handle problems with your automatic garage door by yourself. Unfortunately, as useful and convenient as these systems are, they can also be incredibly dangerous. Mishandling them can lead to catastrophic results, so when faced with an issue, like a broken spring or a damaged panel, it's always better to let a professional technician handle things. Our team will be more than happy to help.
The Spring Mechanism
The components that support the weight of the door panels aren't without faults. The amount of wear and tear your garage door springs go through is rather considerable, and therefore their lifespan is finite. Broken spring replacement is something you'd probably want to avoid, which is why it's important to be vigilant and to have these units switched out before they snap. In either case, our technicians will be able to help you.
Other Hardware Parts
Your garage door panels are constantly exposed to outside weather, which means they can be susceptible to a variety of damages. Wooden doors can rot or warp, steel panels can rust and even aluminum units, which require less maintenance, can dent rather easily. The main benefit of a sectional garage door is that panel replacement is always a viable option, and more often than not, simply removing the damaged sections and installing new ones in their place will do the trick.
Complete Opener Repair
As the motor that makes your garage door run automatically, the opener is not immune to problems. The main gear can break, the circuit board can malfunction and even parts of the drive system, whether it's a chain, belt or screw type, can develop some issues. Whatever the case may be, you can always count on our experts to find a solution. If your door starts reversing all of a sudden and refuses to close, or if it suddenly won't open, we'll troubleshoot the problem and find an affordable solution for it.
Help Is On The Way
Give our team at Garage Door Repair Riverton a call today and let us take care of any problem that you're dealing with. We have the experience and the skills necessary to effective solve any issue.
We also offer the following services:
Overhead Door Repair & Installation
Galvanized Torsion Spring Replacement
Genie Garage Door Openers
Garage Door Safety Inspections